'Daughter of Tayside sci-fi legend vows to keep literary flame alive' Graeme Strachan, The Courier, 2 July 2019
"Space invasion is often a theme of sci-fi writing, films and other media, however in my experience it was becoming a mental patient which invaded my space"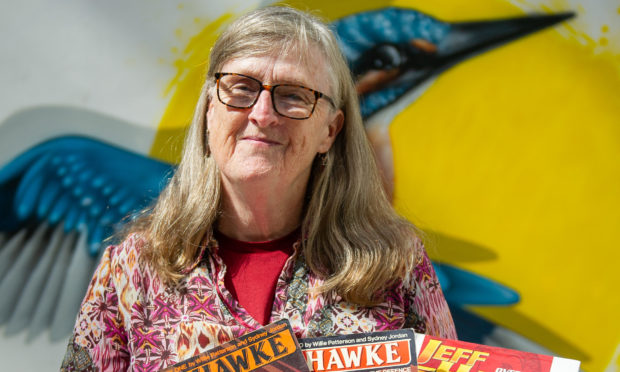 Willie Patterson's daughter Chrys Muirhead.
The daughter of Tayside sci-fi legend Willie Patterson has vowed to keep his literary flame burning.
Written by Willie Patterson from Perth and created by Dundonian Sydney Jordan, Jeff Hawke was published from 1955 to 1974 and even predicted the day of the moon landings to within a fortnight – 10 years before it happened.
They were friends in teenage years after Mr Jordan moved to Perth from Dundee and both went to Miles Aeronautical Technical School in Reading.
The daily comic strip saw the Flash Gordon-like hero encounter extraordinary characters from other worlds.
Patterson's daughter Chrys Muirhead is a blogger, writer and storyteller in mental health matters, which also affected her father.
"Space invasion is often a theme of sci-fi writing, films and other media, however in my experience it was becoming a mental patient which invaded my space," she said.
"I had a happy childhood even though my dad was often absent, in London, writing Jeff Hawke for Sydney Jordan and the Daily Express.
"My father didn't get his name on the comic strip and I'm not sure why but if it was me I'd have insisted, especially as he took over the script-writing and it was his stories that have lived on.
"This is one reason I need to write a book of stories about my dad, and also to remember his parenting qualities which got submerged when Jeff Hawke took over his life.
"Schizophrenia used to be described as having a split personality. Well, writing Jeff Hawke split my dad and eventually we lost our dad."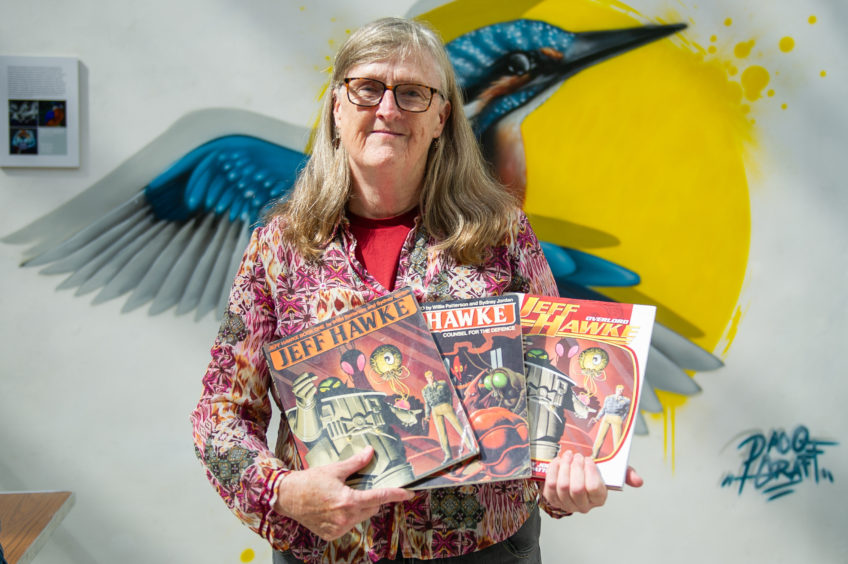 Chrys Muirhead with the books.
Memorable storylines included Hawke being pursued from his moon base to the National Portrait Gallery in London by the spirit of the Mona Lisa, the human race being rescued from the ambitions of an alien estate agent, and a take on man's first steps into space where the competition was beaten by an Englishman who landed on the moon in a Mini­ Cooper.
In the strip H1760, published on November 21 1959, there is a stone that commemorates the first human landing on the moon, noting that it happened on August 4 1969.
Of course, Neil Armstrong was the first person to step onto the lunar surface on July 21 1969 which was just two weeks before the comic predicted.
It was also the year Patterson's contract to write Jeff Hawke would come to an end and Jordan took back responsibility for stories and drawings.
Patterson never worked again or came back to Perth and he died in London in 1986.
"I will have to study my dad's Jeff Hawke stories to garner the themes and develop them, in his memory," said Chrys.
"Not comic book but in short stories, because I'm not an illustrator and for me it's words which can conjure up the picture.
"Without a good, clever, innovative storyline then it's just another drawing.
"I've been looking at graphic novels in the library and many seem to fall down on the storytelling, in my opinion anyway.
"I'm attending events these days with authors speaking about their books, to find out tips and to see whether they are as good at telling stories as they are at writing them.
"That's a fine skill, being able to write as if you were speaking, and vice versa I suppose.
"It's about holding an audience captive, keeping them interested."
The Patterson-Jordan period is considered the "true" Jeff Hawke by most fans.
------------
that's a nice write-up Graeme! you've quoted my words, given me a voice, as if I was speaking, much appreciated 🤗

https://t.co/hcyXF3xIxx

— Chrys Muirhead (@ChrysMuirhead) July 2, 2019
Glad that I got around to eventually reading the Courier Headlines in today's Email! [It was a busy day, starting with Podiatrist then swim at the Olympia Dundee then a walkabout with my son through Finlathen Park, Eastern Cemetery and Stobsmuir Park/Swanny Ponds back to the car parked at Morrisons supermarket.]
Then when I saw my picture and headline it was a quick dash after 9pm to Cupar Tesco to pick up a couple of copies of the Courier ...
----------------
Saturday, 15 June 2019: Tayside legacy of groundbreaking sci-fi comic strip which even predicted the year of the moon landings @thecourieruk